I'm Ann Ranlett and I live in northern California, near Auburn, which is northeast of Sacramento. I've been "scratching" since about 1999 and I work mostly on white scratchboard (EssDee) or Ampersand Claybord. I've done a couple of drawings on black EssDee or Ampersand Scratchboard, but I prefer the white boards. The majority of my scratchboard drawings are a mix of ink & ink washes.
I do a lot of pet portrait commissions and in addition to scratchboard, I work in watercolor (on Yupo) and mixed media (usually a combo of ink, watercolor, color pencil).
This is me & our dog, Magpie, a border collie (yeah, I have a thing for black & white!)
One of my favorites, this pinto filly was done on the white scratchboard. This one's just ink & scratching (no washes).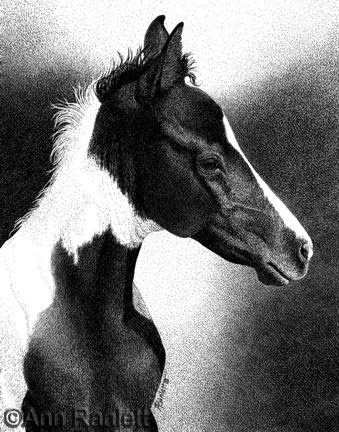 And this is the first and only (so far) piece I've done on the Ampersand Scratchbord
I've been lurking in the group for a while, but now it's time to get more active. I'm looking forward to getting to know everyone better and learning some neat stuff!