WetCanvas
(
http://www.wetcanvas.com/forums/index.php
)
- -
Who Are You?
(
http://www.wetcanvas.com/forums/showthread.php?t=616624
)
| | |
| --- | --- |
| PaintDog | 02-22-2011 01:38 AM |
---
Re: Who Are You?

I'm Ann Ranlett and I live in northern California, near Auburn, which is northeast of Sacramento. I've been "scratching" since about 1999 and I work mostly on white scratchboard (EssDee) or Ampersand Claybord. I've done a couple of drawings on black EssDee or Ampersand Scratchboard, but I prefer the white boards. The majority of my scratchboard drawings are a mix of ink & ink washes.
I do a lot of pet portrait commissions and in addition to scratchboard, I work in watercolor (on Yupo) and mixed media (usually a combo of ink, watercolor, color pencil).
This is me & our dog, Magpie, a border collie (yeah, I have a thing for black & white!)
One of my favorites, this pinto filly was done on the white scratchboard. This one's just ink & scratching (no washes).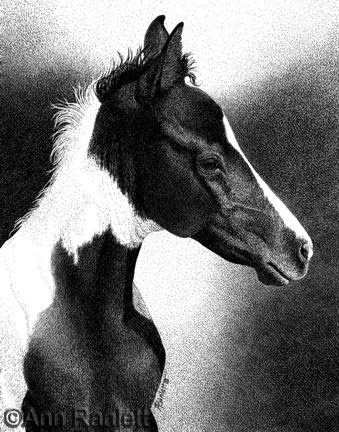 And this is the first and only (so far) piece I've done on the Ampersand Scratchbord
I've been lurking in the group for a while, but now it's time to get more active. I'm looking forward to getting to know everyone better and learning some neat stuff!
| | |
| --- | --- |
| aaces | 03-23-2011 10:02 AM |
---
Re: Who Are You?

1 Attachment(s)
Just noticed I'm in a pic already but I haven't said who I am....well....
I'm me:D
Started scratchin in late 07 after being directed this way by Mr. Farley. Since then I haven't looked at any other medium. I learned from the best (you all know who you are here :D) and continue to do so every chance I get.
I'm a Security Supervisor at a Hospital in Peoria Ill....but one of these days I'll be doing my art full time.......in other words when I retire!
This is me......I'm the one with the hat on.....some people might say I'm the one being ridden :rolleyes:
And yes....I am that goofy in Real life :D
| | |
| --- | --- |
| kdkbrown | 03-23-2011 11:35 AM |
---
Re: Who Are You?

3 Attachment(s)
Hi everyone, my name is Donna Rae.
Attachment 680756
I've been hanging around for years, but don't post alot. I have played with Oils, Acrylics, Colored Pencil, and Mix Medium; but since I found Ampersand Boards in 2004, It's the only medium I work in. Love Scratchboard.
Here are just a few of my Favs.
Attachment 680755
Attachment 680754
| | |
| --- | --- |
| FoggyMountain | 03-24-2011 10:24 PM |
---
Re: Who Are You?

Hi,
I am Lynn Kibbe and I've been around WC a while, but never felt comfortable to post about me in this thread until now. After my husband's and my's Air Force careers were over, we moved back home to North Central Pennsylvania (USA) where, although working full time, I was able to focus more on my art hobby. Like others, my plan is to create art full time upon retirement. I am self-taught and was primarily an oil painter, dabbling in other mediums until I found scratchboard soon after joining wetcanvas just over a year ago. Because of this forum, I've found an artform I absolutely love. I am shown with my most recent favorite that was made possible by the truly helpful folks of this forum. Love you guys!
Sorry for the sleepy look - my husband made me look down to avoid glare on my glasses.
| | |
| --- | --- |
| karenelyse | 05-13-2011 05:27 PM |
---
Re: Who Are You?

Hi, everybody. I'm in awe, looking at all of the talent gathered here. I'm Elyse White, born and raised in Dallas, Texas, USA. I'm relatively new to scratchboard. I never knew I could even draw until 2006, when I took some art classes and things finally made sense. I had retired from a career as a tech writer because of health problems, so now I get to play. I've mostly worked with graphite and colored pencil, but really like scratchboard. I'm also pretty fast with a crochet hook.
I'm having trouble posting my "masterpieces," but you can see them at
www.elyseanart.com
.
| | |
| --- | --- |
| artofnature | 05-13-2011 07:52 PM |
---
Re: Who Are You?

Helloe Karen, welcome to the dark side. You will soon get some great advice from the friendly folks on here. Do you have any work to upload yet?

I crochet too. My mother taught me many years ago. It's a beautiful craft but not taught so much now. Maybe you can make some scratchart of some of your finished pieces like a few others do on this board.
| | |
| --- | --- |
| PatrickHedges | 05-13-2011 09:47 PM |
---
Re: Who Are You?

A big welcome to all newcomers, and looking forward to seeing your work Elyse :)
| | |
| --- | --- |
| uniquetadpole | 05-25-2011 12:56 PM |
---
Re: Who Are You?

Hi I am Tad and I am a student at the art institute. I am exploring media at this point and fairly new to the art world although have been a student of creativity my entire life. I seem to take to sculpture, but pretty much just love to create things.
Tad
---
Re: Who Are You?

Hi; I am Beth Dix. I live in Black Mountain, NC. I have always loved art, but never pursued it wholeheartedly until 2 years ago when my husband and I retired to this area from Florida.
Since that time I have taken classes in oils, pastel, watercolor, pen & ink, and most recently... scratchboard. I love them all!!! I started the scratchboard class 6 weeks ago, and have taken to it "like a duck to water".:)
Here is my most recent finished piece... I call it "Watchful". I used a photo from Morguefile as a reference.
| | |
| --- | --- |
| PatrickHedges | 05-30-2011 02:46 AM |
---
Re: Who Are You?

Hi Tad and Beth. Beth, your art is amazing and Tad, I love your spin on that portait of you and your dog. Seriously WOW!
| | |
| --- | --- |
| Spudisle2 | 06-04-2011 12:04 AM |
---
Re: Who Are You?

Hi, I'm Elaine Sobey from Prince Edward Island in Canada. I started painting in Acrylics for about 15 years as well as dabbling in oils and watercolors but did not spend a great deal of time with it. I recently retired and now have more time to play...I discovered scratchart about a year ago and fell in love with it immediately. Here is a picture of me from one of my two favorite places in Canada_ the Canadian Rockies (The other being PEI). It was hard to pick a favorite scratchart picture as I have only done 6 todate and love them all, but I chose one of my sisters dog titled "Patiently Waiting"
| | |
| --- | --- |
| MichelleF | 06-24-2011 04:31 PM |
---
Re: Who Are You?

HI, I am Michelle Fagan and I live in SC! I have two kids with my oldest going to college this year, a husband, 4 dogs, 2 horses (1 baby on the way) and 3 cats.
I am a sculptor of babies and dolls which I love doing but last year I noticed a piece by Judy Larson and was absolutely intrigued with scratchboard. I love horses and am hoping to be able to doing a beautiful horse scratchboard piece this year.
What a great board - I am enjoying myself and amazed at all the talent here!
Me:
and I wanted to share a picture of one of my baby (doll) sculptures from cernit/silicone clay because I don't have any decent scratchboard to share yet:
| | |
| --- | --- |
| objectivistartist | 06-24-2011 05:44 PM |
---
Re: Who Are You?

Wow - fantastic doll sculpturing!!!
| | |
| --- | --- |
| PatrickHedges | 06-24-2011 06:17 PM |
---
Re: Who Are You?

iya, welcome to Elaine and very nice scratchboard!! Also welcome to Michelle. That doll is insane!! How on earth!!!!!!? Madam Tussauds can't do work like that!
| | |
| --- | --- |
| MichelleF | 06-24-2011 06:45 PM |
---
Re: Who Are You?

Thank you Robert and Patrick! I wanted to post something I am good at LOL since my scratchboard is lacking right now!
All times are GMT -4. The time now is

07:07 AM

.

© 2014 F+W All rights reserved.